TOP 22 NFL CLEATS for new campaign
For the first time ever NFL players wore personalized cleats during Week 13 games. And they didn't get fined!
The NFL partnered with The Players' Tribune to debut "My Cause, My Cleats" campaign.
This campaign allows NFL players to wear custom cleats in honor of a charitable cause of their choosing during Week 13 games. Also, the players have the opportunity to share their personal connection with their particular cause through The Players' Tribune.
Over 500 football players worked for 18 months to bring this vision to a reality, according to the NFL.
@@ Learn how NFL players wore custom cleats during game– without getting fined. @@
Cleats are an extension to a player's performance. From the comfort to the atheistic, cleats are the like the chocolate icing on top of a hot chocolate cake that triggers a game-on mentality. Imagine how more dominant a player feels when they're able to rock a pair of custom-made cleats that symbolizes their passion.
For this campaign, players wore cleats supporting a variety of causes including vision impairment, Flint water crisis, veterans, breast cancer, global education, CMT disease, John Hopkins Alzheimer's Disease Research Center, pediatric cancer, mental illness, social injustice, and so much more.
A league that is known for its extremely rigid uniform policy and is always ready to hand out at least $6,700 and $12,154 fines for first and second offenses respectively, NFL Commissioner Roger Goodell shared support for the players and the campaign.
"One of the great NFL traditions is how our players passionately support important causes in their communities and around the globe every year," said NFL Commissioner Goodell.
They are incredibly creative by nature so we are not surprised how they are seizing the opportunity this week with inspiring expressions of their charitable commitments on their cleats, online and through social media," he continued.
@@ See how NFL Commissioner Roger Goodell is supporting players with new initiative. @@
In addition to players playing with passion by wearing their cause-related cleats on the field, they are able to raise funds for their cause by auctioning off their cleats online via NFL Auction. All funds will be donated to their respective 501(c) (3) nonprofit organization.
BiancaMarley.com selected 22 of the most memorable cleats that were sported on the field based on creativity only. We admire every single cause that each player is committed to and did not want the causes to influence our top picks. This was a fun process as we couldn't help but research the diversity of causes represented while we handpicked these notable cleats.
To see what other players wore during Week 13, use #MyCauseMyCleats on Twitter and check out The Players' Tribune to read and hear about their connection with the cause.
@@ Check out these 22 custom cleats NFL players wore during the game for #MyCauseMyCleats campaign. @@
1. Von Miller– Outside Linebacker, Denver Broncos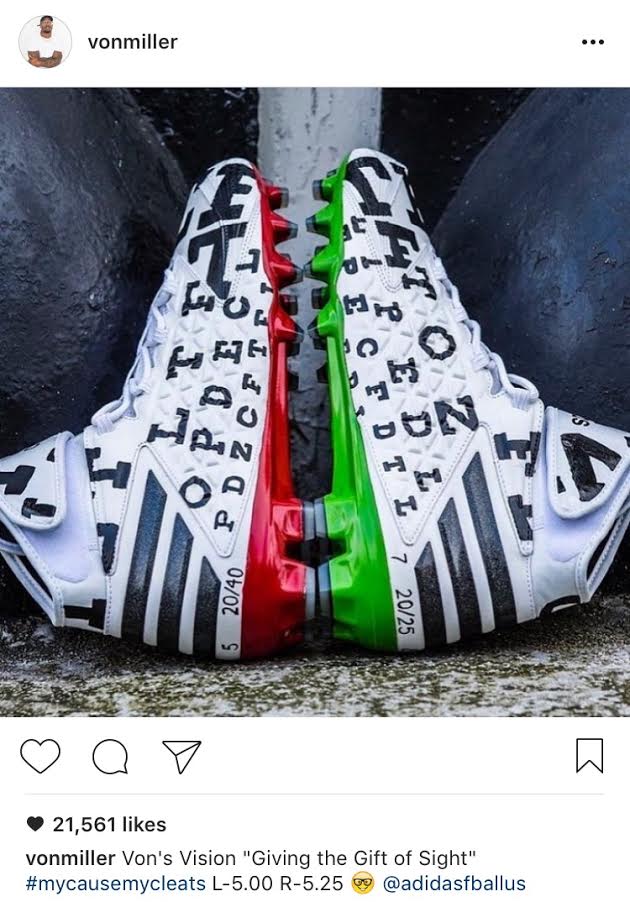 Mission: To better the vision of Denver-area youth by providing them needed eye examinations and eyewear to succeed in the classroom and in life.
@@Check out Von Miller's custom cleats he rocked during the season. #MyCleatsMyCause@@
2. Brandon Marshall– Wide Receiver, New York Jets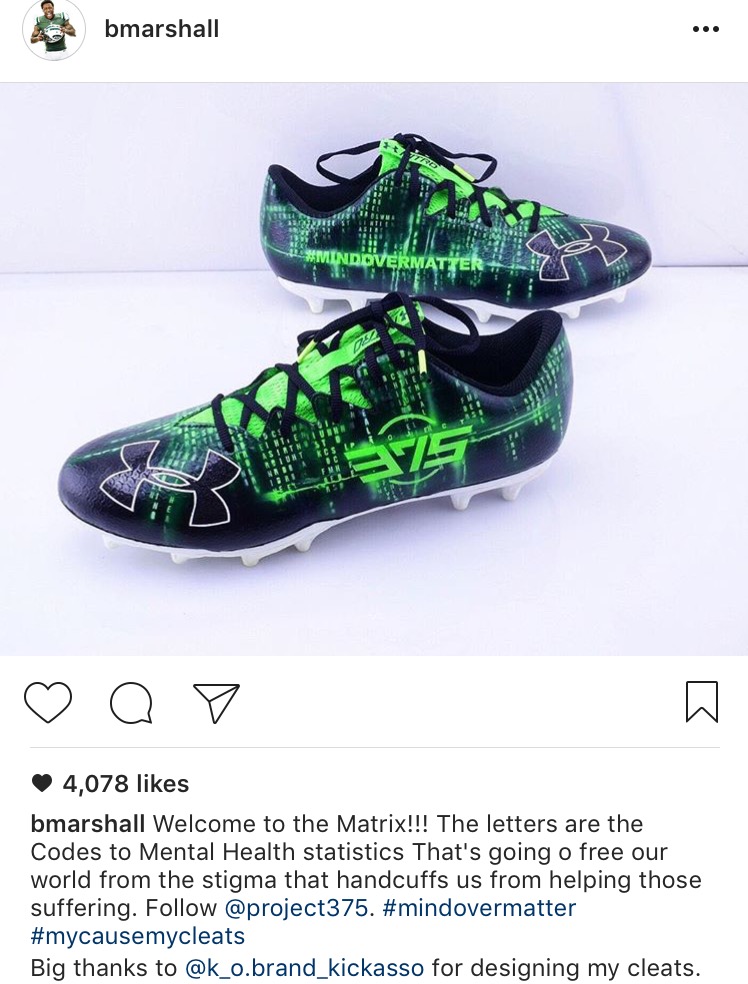 @@Cause: Project Borderline
Mission: To spread the word about Borderline Personality Disorder, fight stigma, educate, advocate, reach out, bridge the gap, and change the face and the future of this order.@@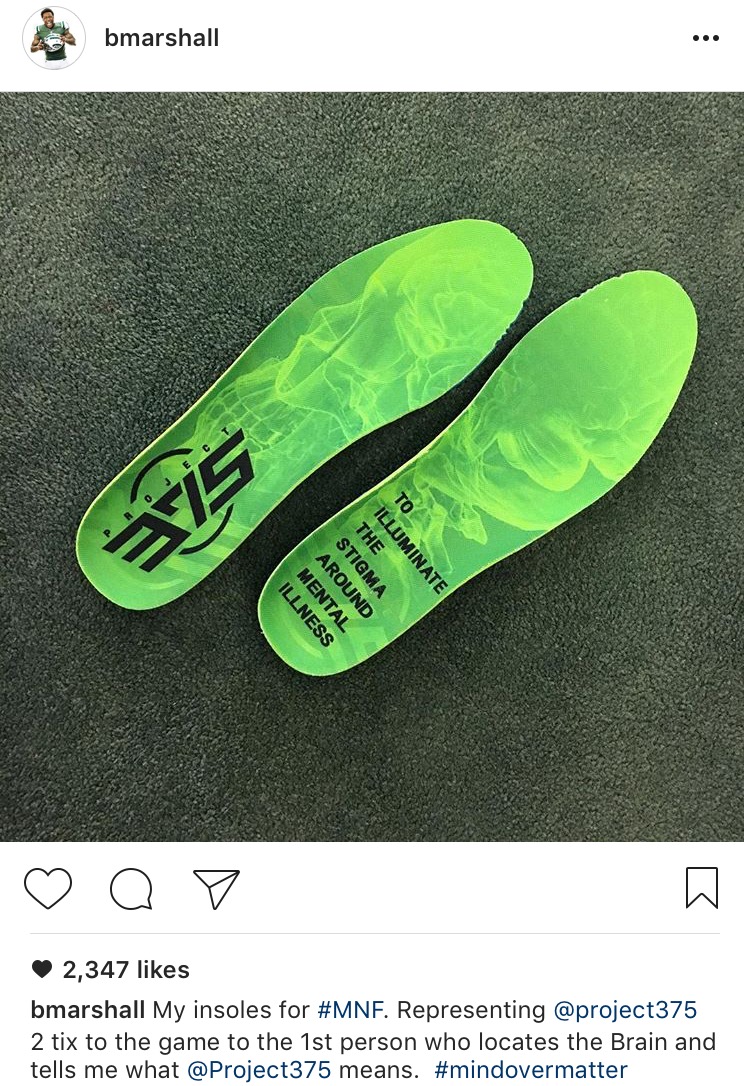 3. Terrelle Pryor– Wide Receiver, Cleveland Browns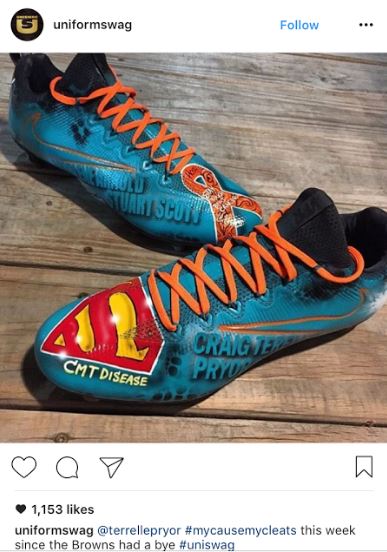 @@Representing: CMT Disease
CMT is the most commonly inherited peripheral nerve disorder affecting about 1 in 2,500 people. CMT causes damage to the peripheral nerves, which carry signals from the brain and spinal cord to the muscles, and relay sensations, such as pain and touch, to the brain and spinal cord from the rest of the body.@@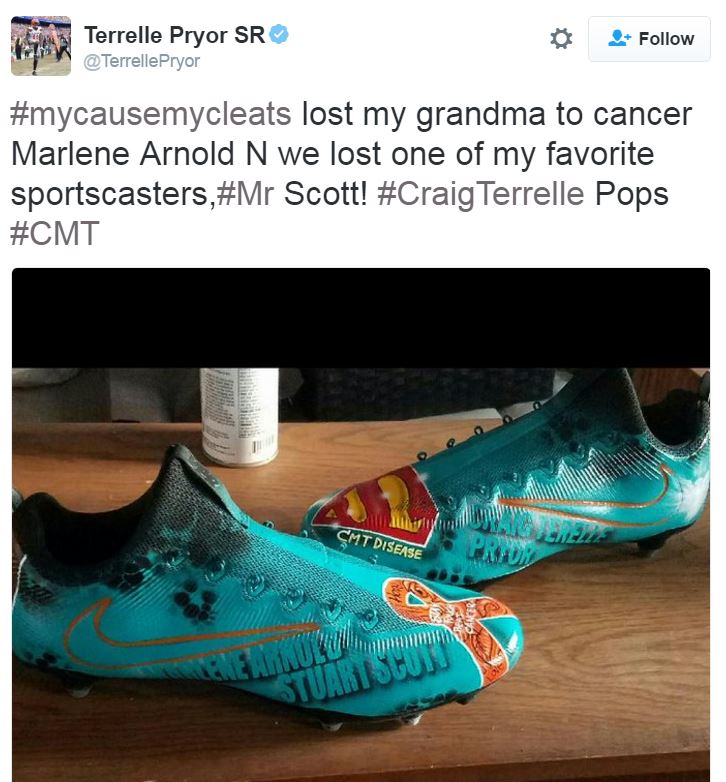 4. William Hayes– Defensive End, Los Angeles Rams
@@ Cause: HollyRod Foundation
Mission: To provide medical, physical, and emotional support to individuals living with Parkinson's Disease as well as families of children with autism. @@
5. Patrick Peterson– Cornerback, Arizona Cardinals
@@
Cause: Patrick Peterson Foundation for Success
Mission: To provide low-income and inner city youth with opportunities and resources to reach their full potential. @@
6. Benjamin Watson– Tight End, Baltimore Ravens
@@ Cause: International Justice Mission
Mission: Global organization that protects the poor from violence in the developing world. @@
7. Kelechi Osemele– Guard, Oakland Raiders
@@
Cause: National Alliance on Mental Illness,
Mission: NAMI, the National Alliance on Mental Illness, is the nation's largest grassroots mental health organization dedicated to building better lives for the millions of Americans affected by mental illness. Today, we are an association of hundreds of local affiliates, state organizations and volunteers who work in your community to raise awareness and provide support and education that was not previously available to those in need. @@
8. Stefon Diggs– Wide Receiver, Minnesota Vikings
@@ Cause: American Heart Association
Mission: To build healthier lives, free of cardiovascular diseases and stroke. @@
9. Malcolm Jenkins– Safety, Philadelphia Eagles
@@
Cause: The Malcolm Jenkins Foundation
Mission: To effectuate positive change in the lives of youth, particularly those in underserved communities, by providing resources, innovative opportunities, and experiences that will help them succeed in life and become contributing members of their communities. @@
10. Brandon Carr– Cornerback, Dallas Cowboys
@@
Cause: Carr Cares Foundation
Mission: To inspire young students to become proficient readers by providing learning tools and resources to help them reach their full potential. @@
11. Devon Still– Defensive Tackle, Houston Texans
@@
Cause: Still Strong Foundation
Mission: To provide assistance to families whose children are battling cancer. @@
12. Ryan Davis– Linebacker, Dallas Cowboys
@@ Cause: American Diabetes Association
Mission: To prevent and cure diabetes and to improve the lives of all people affected by diabetes. @@
13. Michael Thomas– Defensive End, Miami Dolphins
@@
Cause: Van Duzer Foundation – First Step Program
Mission: To provide local children of all ages with the opportunity to interact with community leaders on a weekly basis to play, eat and, most importantly, get to know each other.
@@
14. Joseph Cardona– Long Snapper, New England Patriots
@@
Cause: Travis Manion Foundation
Mission: To empower veterans and families of fallen heroes to develop character in future generations @@
15. Gary Barnidge– Tight End, Cleveland Browns
@@
Cause: American Football without Barriers
Mission: To spread football to underprivileged communities with a humanitarian message, helping globalize the esport of American Football. @@
16. Tyrann Mathieu– Safety, Arizona Cardinals
@@
Cause: Rise To Win
Mission: To harness the unifying power of sports to improve race relations and drive social progress. @@
17. Antonio Brown– Wide Receiver, Pittsburgh Steelers
@@
Cause: Big Brother Big Sister
Mission: To help all children reach their potential through professionally supported, one-to-one relationships with volunteer mentors. @@
18. Jesse James– Tight End, Pittsburgh Steelers
@@ Cause: THON
Mission: Student-run philanthropy at Penn State University committed to enhancing the lives of children and families impacted by childhood cancer. @@
19. DeAngelo Williams– Running Back, Pittsburgh Steelers
@@
Cause: The DeAngelo Williams Foundation
Mission: To develop and seek initiatives to support the eradication of breast cancer through preventive care and research. @@
20. Ndamukong Suh– Defensive End, Miami Dolphins
@@
Cause: Ndamukong Suh Family Foundation
Mission: Strive for philanthropic success in the community by means of our programming and considerable donations to educate, health and wellness, nutrition and international outreach. @@
21. Sean Lee– Linebacker, Dallas Cowboys
@@
Cause: Sean Lee's Dreambuilders
Mission: To serve children and families in need in the Dallas-Fort Worth Metroplex. The initiatives include giving kids at after-school clubs access to technology to make reading more interactive and fun, as well as providing assistance to families burdened by large medical bills due to unexpected illnesses. @@
22. Odell Beckham Jr.– Wide Receiver, New York Giants
@@ Cause: Make A Wish Foundation of New Jersey
Mission: Boys & Girls Clubs in New Jersey is an alliance of 23 Boys & Girls Club organizations serving over 70,000 youth ages 5-18 throughout the Garden State. Boys & Girls Clubs in New Jersey is a collaborative effort representing all 23 Clubs with the purpose of building local Club capacity; raising public awareness; and securing resources and financial support to increase the impact and reach of local Clubs. @@
Featured Image Source: @illustrative_cr8ions