3 WAYS MEDIA CHANGED SPORTS CONSUMPTION X MIMCONNECT
In today's era, our hands are clutched on our devices while our faces are tilted downwards engulfed in whatever is catching our attention at the moment on our pixelated screens.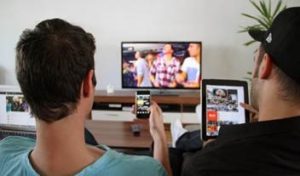 Whether we're catching highlights of the Rio Olympics via twitter or flipping channels between NFL preseason and the US Open– while simultaneously keeping an eye on Instagram– we're inseparable from the digital world.
On Thursday, September 15, 2016 Minorities in Media Connect (MiMConnect) is hosting a discussion on how digital media impacts sports consumption. They curated an all-star panel of industry professionals from ESPN, Twitter, NFL, NBA, CBS Sports, and NBC to weigh in on the topic. Our founder, Bianca Marley Peart, has the once in a lifetime opportunity to moderate this prestigious panel.
As a preview to the event, below are three digital media-related game changers that currently or will soon make an impact on how we watch sports in the post-Walter Payton and Allen Iverson eras.
1. Free NFL-Twitter Livestream
Don't have access to cable on Thursdays? No worries! NFL partnered with Twitter to livestream 10 Thursday Night Football (TNF) games on Twitter.
After declining proposals from the likes of Verizon and Yahoo, who both offered more money than Twitter in their proposals, NFL decided to move forward with Twitter and its 800+ million user reach. As of March 2016, Adweek stated that 79 percent of active Twitter users live outside of the U.S., giving the league a significantly larger reach to the global market. This is the largest sports league and social media partnership to date.
In addition to livestreaming TNF games, fans will have access to behind-the-scenes pregame footage of players and teams via Periscope broadcast. We wouldn't be surprised if other leagues try to follow this powerful partnership.
@@ Learn how to watch live Thursday Night Football games online for free! #NFL #TNF #NFLTwitter @@
2. NBA Pulse
Show me the social! NBA dedicated a page to rank players by their social media buzz. The dashboard shows metrics including mentions per hour, tweets per minute, and overall fan sentiment. It also has an algorithm to pull spotlight stories on each player. In this age data is essential, especially for fans who frequently like to debate who is the best player in the league. Now, fans can add social media stats to their arguments.
The NBA is the first league to create a hub exclusively for everything social media. This page, global.nba.com/nbapulse, is another way to draw fans closer to players while they are on and off the court.
@@Who is the greatest basketball player of all-time...on social media? Is it #Curry, #LBJ, or…@@
3. iBeacon Technology
Stay in the loop at sporting events! Apple's iBeacon technology will send notifications to your iPhone based on your current location in the stadium. Say what?!
Let's say you're walking along the concourse and come across the team's gift shop. A notification will pop up sharing a promotional code or details on how to pick up free giveaways. Or say, you miss a key play during a game; you'll receive an alert to view video replay and highlights. And if you're looking to eat food, the technology will point you to the closest concession stand along with any coupons and updates on whether or not the line is manageable.
The iBeacon transmitters have been installed in MLB stadiums, select NFL stadiums, and 12 NASCAR-sanctioned tracks.
@@ Next time you go to a game, learn how you can get promo codes on food and gear! @@
To hear exclusive insight from the panelists regarding the direction of sports consumption, RSVP to "The Pregame" here.
Brooklyn's own Braven Brewing Company is sponsoring the event and supplying free beer.
Right after panel, we're going to watch the first TNF game of the 2016 season– New York Jets vs. Buffalo Bills
You do not want to miss out on this fun-filled and interactive event! If you're unable to attend, leave a comment below with questions for the panelists. We want to make sure your voice is heard!